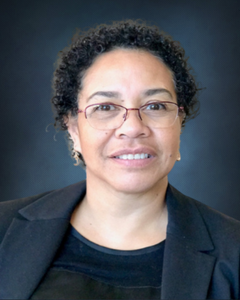 Leida Woodham, MA, LCPC, ALMFT
Everyone has a unique world view that is informed by personal experiences, and like fingerprints, no two individuals see things exactly the same.  The ability to be able to connect with someone and see the world as they see it is essential to being able to foster an environment of safety, openness and exploration.  Leida strives to be able to understand the uniqueness of your life experiences and how this has molded a sense of self and influences your personal world view.
Leida has had the opportunity to work in a variety of clinical settings ranging from private practice to community agencies to vocational rehabilitation.  These experiences have taught Leida to better understand the needs of each individual, identify strengths and perceived or actual barriers, and find a path forward. Leida helps clients accept the here and now without getting stuck in the past and ultimately visualizing a different future. 
Although Leida feels comfortable and enjoys meeting with clients with a variety of presenting issues, she has found her passion in working with individuals with anxiety, life transitions, grief, depression, self-injury and has pursued advanced certification in working with couples and families.  Leida works with adolescents and adults from all different backgrounds and is able to offer sessions in English and Spanish.  Leida's personal background makes her sensitive to how culture informs identity.
Leida uses an eclectic counseling approach that incorporates elements of solution-focused, existentialism and person-centered counseling.  These techniques allow clients to creating a trusting and genuine relationship with the therapist, increase self-awareness, and identify and set tangible goals.  Leida assists her clients in constructing these goals by encouraging them to envision how their life will be different once their problems are gone.  Working together towards creating a hopeful and satisfying future is the driving force behind Leida's success in helping her clients find motivation and make lasting positive changes.