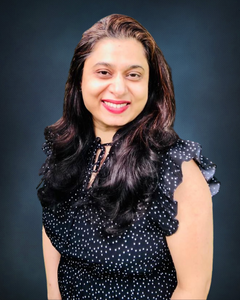 As we move through the story of life in time and space, we carry the past to the present, and the present to the future. Everyone's story is unique and influences how they see the world and their place in it.  However, there are common themes to these stories in that each experience can illicit positive or negative emotions, build or tear down self-confidence and enhance or deplete relationships.  Therapy is about understanding the details of how life experiences have formed a person's sense of self.  When we encounter experiences that are confusing or negative, we can become disoriented and lose our sense of self.  Increased awareness, insight and purpose allows to us find balance and a path forward.
Kavita recognizes that because all of us have unique life stories and goals, there is a need to provide an integrative approach, drawing on many different modalities tailored to each person's strengths, life choices, and vision. She believes that the foundation of the therapeutic relationship is based on trust, acceptance, and genuine regard, and such relationship between client and counselor is paramount to facilitating change and growth. Her role is to create a collaborative, non-judgmental, open-minded space where you are free to be your true self and let down your guard.  
Kavita is Licensed Professional Counselor with over thirteen years of experience in the counseling field. In that time, she has gained experience working in a variety of private practice mental health settings with diverse populations. Kavita has experience treating a wide range of mental health issues, including depression, anxiety, trauma, PTSD, couples/marital counseling, eating disorders, life transitions, acculturation and more severe mental health disorders.  She has a passion for working with individuals looking to heal long-held patterns that are keeping them stuck in limiting cycles.
 Kavita has broad training in body, mind, emotions and spirit connection and works to help clients heal holistically on every level. She is well-versed in spiritual practices such as mindfulness, meditation, yoga, breathwork, chakra healing, and hypnotherapy for clients who are interested in pursuing an integrative approach. In addition to Eastern approaches, she incorporates aspects of person-centered, Gestalt therapy, CBT (Cognitive Behavioral Therapy), Existential therapy, and psychodynamic approaches to support her client's goals. Regardless of the particular reason you are seeking counseling, Kavita will strive to support and guide you towards a place of independence and resiliency in order to foster meaningful and lasting change in your life.